1, August 2023
GNDC AND IMPACT DAKOTA CELEBRATE MANUFACTURING WORKFORCE WITH FACES OF MANUFACTURING LIST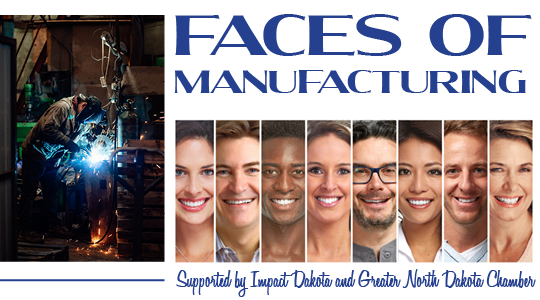 [BISMARCK] The Greater North Dakota Chamber (GNDC) and Impact Dakota are excited to announce their inaugural list of FACES OF MANUFACTURING in North Dakota. Impact Dakota and GNDC partnered to showcase a workforce in an industry that continues to evolve with technology advances and demand.
Jodie Mjoen, Impact Dakota President/CEO stated, "Every manufacturer is vital to our North Dakota communities providing awesome careers to our hard-working families, friends, and neighbors; making all the products we need and use. With over 27,000 North Dakota manufacturing employees, we know we can count on all those products being delivered to our communities in North Dakota, throughout the United States, and around the world. We depend on them and are very grateful for each and all of them every single day."
The Faces of Manufacturing list of 10 individuals – including two honorable mentions, features workforce engaged in every level of manufacturing. Additionally, honorees span different parts of the state and come from various backgrounds.
"Over 30 companies put forth over 100 nominees, demonstrating the vibrancy of this sector of North Dakota's economy and the diversity of skillset in positions. This industry will continue to progress and with it the opportunities for careers will also evolve," GNDC CEO and President, Arik Spencer continued, "We are excited to showcase those doing the work but additionally highlight the opportunities for future workers in a secure field."
GNDC and Impact Dakota will be honoring these individuals with weekly spotlights ending in early October to coincide with Manufacturing Day, October 6, 2023. With premier sponsor, North Dakota Department of Commerce, and supporting sponsor Minn-Dak Manufacturers Association, GNDC and Impact Dakota are pleased to announce:
2023 FACES OF MANUFACTURING
Pablo Martinez, CNC Machinist AIM Machining LLC, Wahpeton
Geina Anderson, Production Supervisor Baker Boy, Dickinson
Floyd Mattison, Assistant Foreman Cloverdale Foods Company, Mandan
Eric Felch, Sanitation CoJACK Snack and Pack, Devils Lake
Kyle Wilson, Master Electrician Fisher Industries, Dickinson
Karen Nelson, Operations Manager Flex TM, Wahpeton
Mika Vandaveer, Mat & Mix Supervisor – Marvin Composites (fka Tecton Products), Fargo
Dylan Tostenson, Laser Operator – McNeilus Steel, Fargo
Brandi Griffith, Production Manager and Safety Coordinator – Spectrum Aeromed, Fargo
Dean Fandrich Jr., Production Supervisor – Summers Manufacturing, Devils Lake
Honorable Mention
Adeng Deng, Production Associate – Cardinal IG, Fargo
Yevgeniy Patselov, Welder 3 – TrueNorth Steel, West Fargo
Additional information on GNDC can be found at ndchamber.com. Additional information on Impact Dakota can be found at www.impactdakota.com.
###
About GNDC: The Greater North Dakota Chamber is the largest statewide business advocacy organization, with membership represented by small and large businesses, local chambers, and trade and industry associations. GNDC represents the interests of our members by promoting policies and initiatives in pursuit of making North Dakota's business climate the best in the nation. ndchamber.com.
About Impact Dakota: Impact Dakota is the North Dakota delivery organization of the U.S. Department of Commerce's nationwide Manufacturing Extension Partnership (MEP) network. Their staff of experts provide specialized business consulting services to North Dakota based manufacturing and processing companies. Impact Dakota conducts detailed needs assessments, outlines potential solutions, and provides technical assistance to solve problems of waste and inefficiencies. Impactdakota.com