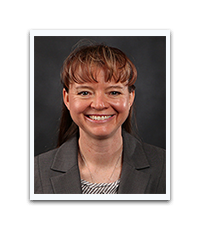 Board of Directors: Kelly Cozby, CSP
Strategic Planning Administrator
Basin Electric Power Cooperative
Kelly grew up working in a family business selling mining and construction equipment and building custom hydraulic hoses. Graduating with a bachelor's degree in Occupational Safety and Health Engineering from Montana State School of Mines, she worked in the field as a staff engineer for WBI Holdings, Inc., a natural gas pipeline company, later stepping into an organizational leadership role at their headquarters location.
After several years, Kelly returned to a role in safety by taking a job at Dakota Gasification Company (DGC), a subsidiary of Basin Electric Power Cooperative (BEPC). While at DGC, she was promoted to the department superintendent, leading the safety and industrial hygiene team at the facility.
Years later, she was promoted to BEPC's headquarters location to lead the cooperative's safety program, encompassing its power generation facilities and subsidiaries. While in this role, Kelly had the opportunity to be part of several continuous improvement efforts in safety, and held a leading role in a number of "Kaizen style" rapid improvement efforts.
Recently, Kelly was asked to apply these skills to operational business related projects and is currently working with the cooperative's Board of Directors and senior management in a strategic planning role for BEPC.
Kelly is a Certified Safety Professional and has served on several groups including the Energy Coalition for Contractor Safety, The Energy Generation Conference Committee, and Missouri Basin Toastmasters. She is certified as a Change Management Trainer and Rapid Improvement Workshop Facilitator.
Upcoming Events
Impact Dakota Blog