Is it difficult to find the workers you need to meet your current operation?
What are the workforce skills you will need for the next five years?
Are you frustrated with high turnover of your workforce?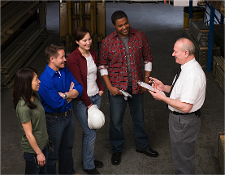 We all know the saying "your workforce is your company's most valuable asset". While this statement is true, many companies struggle to find and retain, develop, and fully utilize the strength of this valuable asset. Impact Dakota can help you to plan your current and future workforce needs, establish processes for managing and developing the workforce skills needed, and improve the utilization of those skills throughout your organization.
We have assessments, expert technical assistance advisors, and customized programs to fully engage your workforce and foster leadership development. Our service options include:
NEW: Leadership for Operational Excellence

From day one, students learn about their leadership styles and are taught to understand their growth potential.

Essential Training and Leadership Skills for Supervisors and Managers
Leadership Support Programs – to build leadership development plans, improve skills and foster peer to peer learning between leaders.
Quick and Easy Kaizen – to develop the creativity and empower every employee to continuously improve their workspace and your organization.
Related Success Stories
Job Instruction Training Enables Company to Decrease Set-Up Time by 75% and Employee Mistakes by 50% - click here to read the story.

On-boarding Training Results in 50% Reduction in Learning Curve, 7.5% Increase in Productivity and Sales Per New Employee - click here to read the story.
To be successful in this highly competitive workforce market you need to be able to attract and retain a skilled workforce by fully engaging, empowering, and utilizing your workforce. Take the next step to improving your leadership and people development by filling out the following form to request a no-cost consultation!