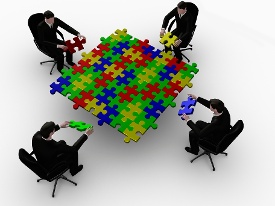 Impact Dakota is proudly supported by two major investors: the National Institute of Standards and Technology, Manufacturing Extension Partnership program (NIST MEP) and the North Dakota Department of Commerce, and works collaboratively with many regional partners and affiliates.
Major Investors
NIST MEP

NIST MEP invests financial resources in a network of 60 centers (at least one in every state) dedicated to helping manufacturers better invest in their futures, increase productivity, improve profitability and enhance economic competitiveness. This national knowledge sharing network links thousands of manufacturers and technical experts across the country committed to growing American manufacturing. MEP practitioners and affiliates serve over 25,000 manufacturers annually.
See www.nist.gov/mep/ for more information.

Department of Commerce
State of North Dakota
The mission of the Department of Commerce is to lead North Dakota's efforts to attract, retain and expand wealth. They target five industries to broaden the state's economic base, create new wealth and generate quality jobs including (1) value-added agriculture, (2) advanced manufacturing, (3) technology-based business, (4) tourism and (5) energy.
Impact Dakota is the advanced manufacturing program they support and invest in to build the industry.
See www.commerce.nd.gov/ for more information.
Partners
In addition to the Major Investors, Impact Dakota develops relationships with organizations most able to align resources (time, treasure and talent) with us in order to help us carry out a common mission of developing manufacturing and other new wealth creating industries. Activities include working together to develop and deliver services, hosting special events (like Manufacturing Day), conferences, events, and webinars and/or workshops.
Here are some examples:
Partnership

Organization

Purpose

American Petroleum Institute University

API Certified Job Instruction, Job Relations and Job Methods

Enterprise Minnesota

Greater North Dakota Chamber of Commerce

Job Service North Dakota

Manitoba - Canadian Manufacturers & Exporters

Minn Dak Manufacturing Association

Montana Manufacturing Extension Center

National Association of Manufacturers

North Dakota Agricultural Products Utilization

North Dakota Petroleum Council

North Dakota Safety Council

North Dakota Trade Office

Society of Manufacturing Engineers

South Dakota Manufacturing & Technology Solutions

Develop Manufacturers in the Region

USDA Rural Development

Rural Energy for America Program
If your organization would like to explore partnering with Impact Dakota in the future, please fill out the form below.